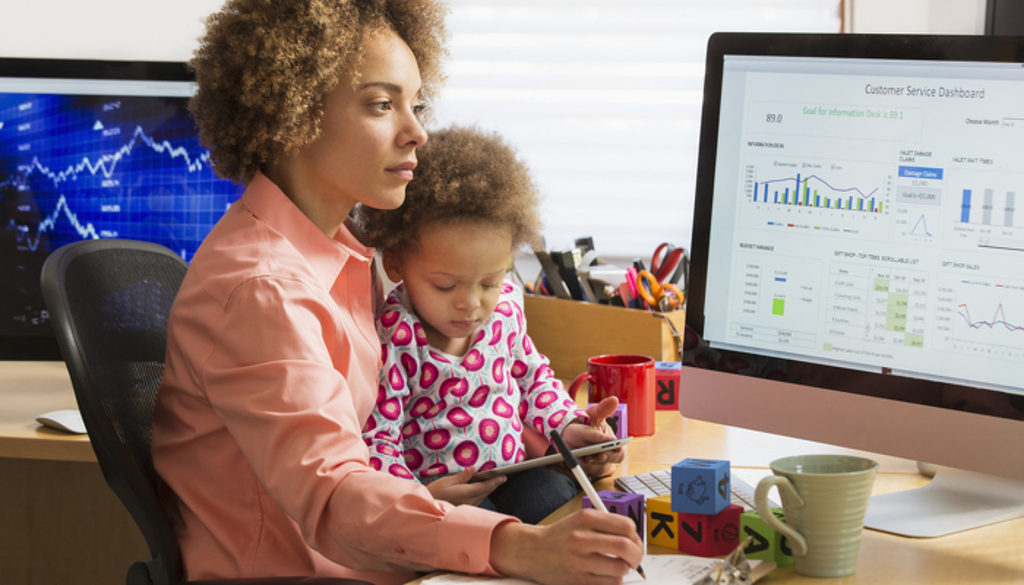 Being a mompreneur is like holding two full-time jobs: a businesswoman and a parent. It seems like the perfect recipe for constant sleep deprivation and stress – and yet so many mothers all over the world are doing it successfully. In fact, 71% of mompreneurs are the primary caregivers of their children and are still running successful ventures.
This success obviously comes at a cost: according to research, 88% of mompreneurs spend less time on their hobbies after starting their own business and 64% spend less time with their friends. It doesn't sound easy, it certainly doesn't come easy but starting a business can be made less demanding and more trouble-free by following these simple business tips and tools like PosterMyWall to reduce the time, effort and money required to run a business.
Develop A Brand Identity
Before you start spreading the word about your business, the first thing you need to think about is how you would want your target audience to perceive your brand. First impressions are important and nothing makes a first impression like your brand logo. It helps business owners build a distinct personalized identity for their businesses. Colors, shapes, imagery, lettering, etc. all play a role in representing who you are as a brand. Here are some things you need to keep in mind when designing a logo:
1. Keep it simple Avoid unnecessary complexity in your logo that might make the logo hard to read or comprehend for the consumer.
2. Keep the design scaleable The design should be useable for everything from an app icon to business stationery to a billboard advertisement.
3. Be unique in your approach Try to avoid clichéd designs and definitely avoid copying your competitors. Don't be afraid to do your own thing and experiment with new designs.
If you are not a design expert, PosterMyWall is a great online graphic design tool to help you design your own customized logo easily in a matter of minutes. Simply pick a logo from the hundreds of templates available and customize it using your own colors. That is easy to do using the hex color picker in the editor. Pick a color or add your chosen brand colors' hex codes to customize. Add your own text and voilà! Your logo is ready to go.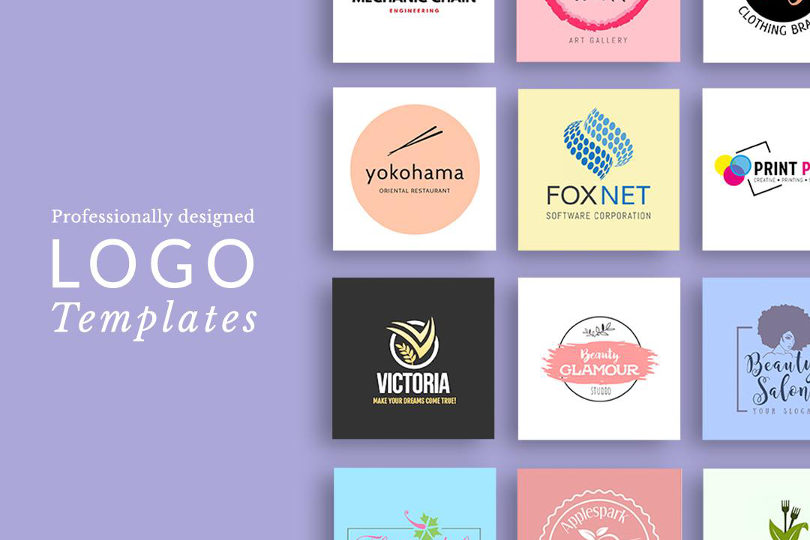 Network, Network, Network
Building relationships is an essential part of entrepreneurship. Whether it is a potential client or a future business partner, it is essential to present yourself professionally in front of them and leave a lasting impression. This will be useful for you if, in the near future, you need to reach out to them for expertise or funding, or to sell them your product.
Making a good impression can be aided with a professionally designed business card. Like your logo, a business card is a quick snapshot of your company and provides the necessary contact details for potential follow-ups. You should ideally have a business card that stands out while remaining consistent with your brand identity. PosterMyWall helps you make your ideal card with their business card templates. There's a style for every type of company, and they're easily customizable to ensure the look you want without the price of hiring a professional designer.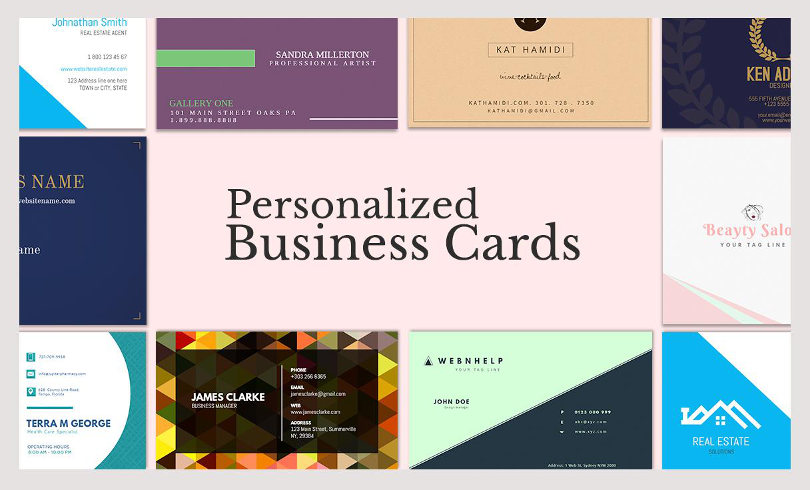 Social Media Marketing: Down to the Basics
In the digital era, it has become necessary for all businesses to maintain an active social media presence to engage with their customers and maintain top-of-the-mind awareness amongst their target audience. Smartphones are the way your target audience stays connected to their friends, families, and favorite causes. They might detract something from real life, but they give as much as they take, and targeted promotion is what they do best. That's why you haven't really begun advertising if aren't promoting on the big social media giants: Facebook, Twitter, Instagram.
Running a social media account, let alone multiple, is a huge task, one that working mothers certainly don't have enough time for. While it's not possible to stretch the day to make more hours for social media, it is certainly possible to shrink the task down to require significantly less time. With ready-made social media templates like those from PosterMyWall, mompreneurs can make stunning professional-looking content for their social media in a matter of minutes without spending a dime – PosterMyWall allows you to download social media graphics for free. You can also resize each design free of cost for all social media platforms simply by clicking on the Resize button in the editor.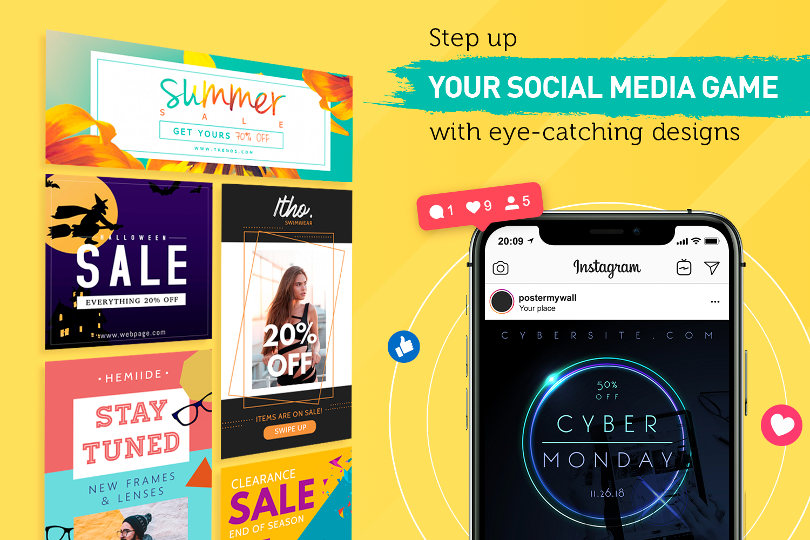 Video Advertising: Action Wins
Consumers are keen to see a brand come to life through more than just text and images. Not just that, videos have a way of making that scrolling finger pause midway, and once you've got a loaded pause, you're more than halfway to another happy customer.
Unfortunately, promotional videos can be time-consuming and costly to make, especially when you don't have video-making expertise and have to hire professionals to do the job for you. This is another area PosterMyWall empowers you in. It has thousands of video templates you can customize to create engaging video content in minutes. You can also find stock video resources in the editor that you can add to your videos or even upload your own clips to create a professional-looking advertisement, promo video, or announcement quickly.
Promoting Your Event With Posters and Flyers
Although there is plenty of technology to help get the word out about your business, good old fashion marketing methods are just as important, and it's still worth your while printing out some A4s and going out with a pocket full of thumbtacks. And if you're hosting an event for your business, you'll want to put up professional signage, so attendees know who you are and what you do.
PosterMyWall has both poster and flyer templates that are perfect for printing and can then be used to distribute in the local vicinity. You can also upload the captivating flyers you create to your website and social media to get people excited about your event or business offering.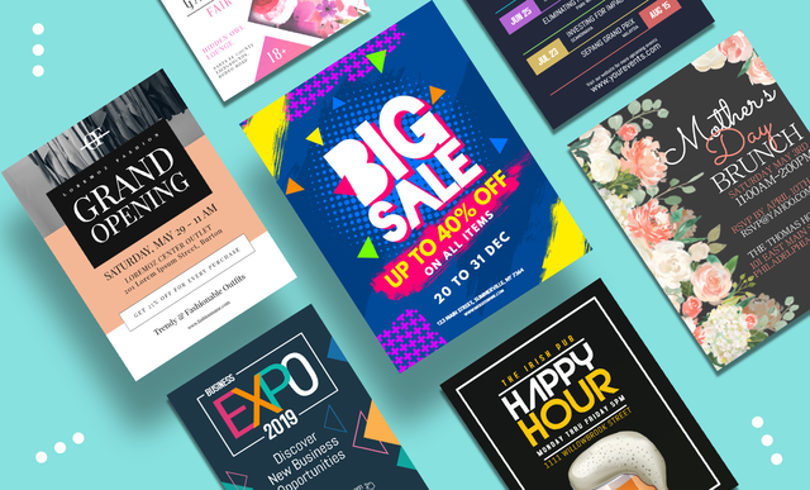 In A Nutshell
Working while taking care of children is an incredibly tough task and women who are able to handle both deserve a lot of respect and all the help we can give them. Following these tips will help mompreneurs make the most of their time while also remaining financially savvy. Sticking to one website for all their marketing needs will help them maintain a consistent brand image while also saving them a lot of time, effort and money, something all working moms need.